Story Highlights
53% satisfied with position of U.S. in the world today
60% think U.S. rates favorably in eyes of the world
37% of Americans think President Trump is respected by world leaders
WASHINGTON, D.C. — Americans are more satisfied with the position of the U.S. in the world today than they have been since February 2003. The eight-percentage-point increase in this measure since last year is owed mostly to Republicans, among whom 85% are satisfied, up from 74%. Independents' satisfaction edged up to 48% since 2019, and Democrats' satisfaction plateaued at 19%.
Partisans have been consistently divided in their assessments of the United States' position in the world over the last 20 years, with Republicans and Democrats expressing high levels of satisfaction when their party occupies the White House. However, the current 66-point gap in Republicans' and Democrats' satisfaction levels is the largest recorded by Gallup.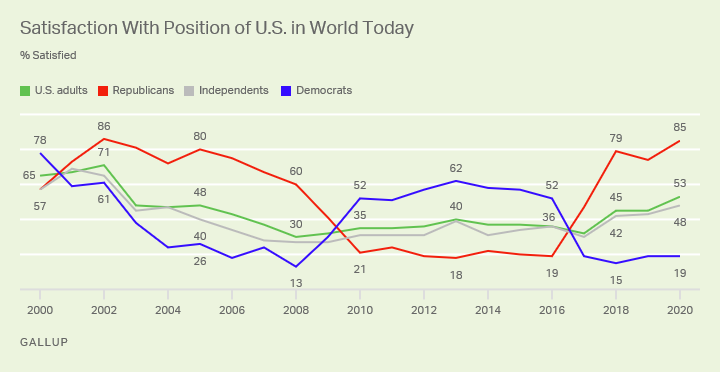 This measure, from a Feb. 3-16 Gallup poll, has been tracked each year since 2000. During that time, Americans' satisfaction with the position of the U.S. in the world has been as high as 71% in 2002, several months after the 9/11 terrorist attacks, and as low as 30% in 2008, in President George W. Bush's final year in office when the U.S. remained mired in wars in Iraq and Afghanistan.
In the past year, the U.S. economy has been strong and President Donald Trump has made some strides in his dealings with other nations, most recently signing the United States-Mexico-Canada Agreement. At the same time, he has also come under criticism for his dealings with China, Iran and Russia.
Republicans Continue to Boost Overall Favorability of U.S. Global Image
Gallup has simultaneously tracked a similar measure gauging Americans' view of how the U.S. rates in the eyes of the world. The latest 60% of the public who think the U.S. rates "very" (16%) or "somewhat" (44%) favorably on the global stage is the highest measured since a 61% reading in April 2003 but well below a post-9/11 favorability high of 79%. Favorability has been rising since the beginning of Trump's second year in office — largely as a result of Republicans' heightened favorable views.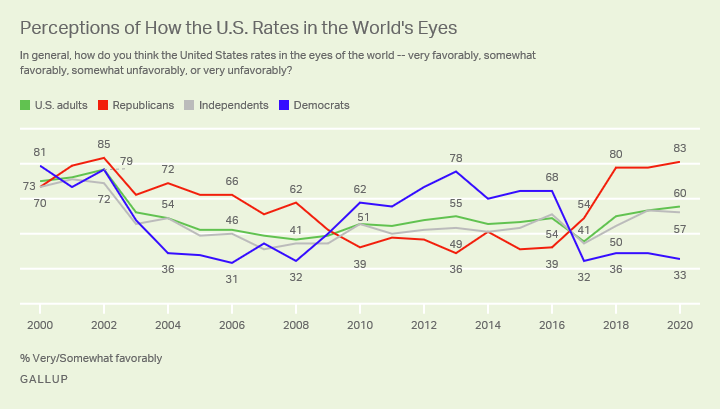 Although the current overall favorability is similar to last year's 58%, the gap between Democrats and Republicans, at 50 points, is the highest recorded by Gallup.
Most Americans Still Say Trump Isn't Respected by Foreign Leaders
While majorities of Americans now have positive views of the United States' global image, that positivity does not extend to their impression of how the U.S. president is viewed by other world leaders. Currently, 37% say leaders of other countries around the world have respect for Trump and 61% say they do not. This year's reading is up six points from a year ago.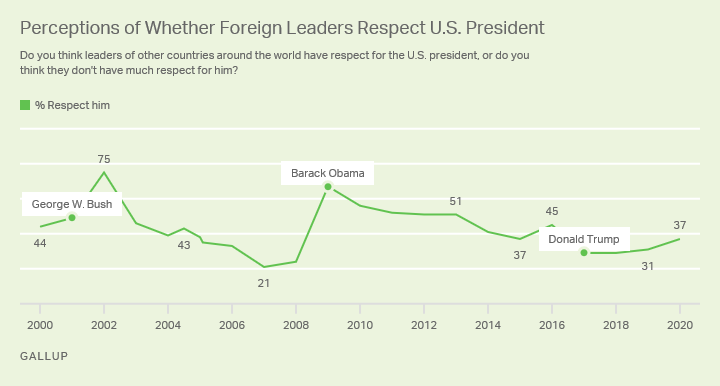 Republicans (74%) are much more likely than independents (27%) and Democrats (6%) to think Trump is respected. The 68-point gap between Republicans and Democrats on this measure is not uncommon over the past two decades, though it is at the higher end.
While the current overall 37% reading is a high for Trump, it is far from the highs recorded for his two most recent predecessors — George W. Bush (75% in 2002) and Barack Obama (67% in 2009). Yet, it is quite similar to Americans' views of Bush at the same point in his presidency. A slim 51% of Americans, however, said Obama was respected by world leaders at a comparable point in his presidency.