Joe Biden Vows to Unify America.
That Job Has Become Dramatically Harder.
The president-elect will start his term faced with the historic challenges of Covid-19 and a struggling economy, at the same time as a Trump impeachment trial and bitter partisanship and anger across the country
President-elect Joe Biden spoke in Wilmington, Del., last week. Susan Walsh/Associated Press
By Ken Thomas and Sabrina Siddiqui – Jan. 15, 2021 10:14 am ET
WASHINGTON—President-elect Joe Biden made uniting the nation among his most pressing priorities as a candidate. His task has became exponentially more difficult.
The deadly storming of the U.S. Capitol by a mob of President Trump's supporters on Jan. 6, a global pandemic and deep cultural and racial divisions, have created a toxic stew that threatens to overwhelm Mr. Biden's agenda at the start of his presidency.
Mr. Biden will take office facing two dilemmas—one practical and one political. The first is how to quickly push through his legislative agenda, particularly to tackle Covid-19 and boost the U.S. economy, at the same time the Senate pursues an impeachment trial of Mr. Trump over the charge he incited the riots.
Secondly, Mr. Biden must juggle his campaign pledge to be a bridge-builder to Republicans with the demands from many in his party that he punish those who joined with Mr. Trump in pursuing unfounded claims disputing Mr. Biden's win.
"A president inciting insurrection is unforgivable, unacceptable and needs to be punished, and that's why I do support the impeachment articles being brought forth in the House," said Sen. Bernie Sanders (I., Vt.), one of Mr. Biden's primary opponents last year, in an interview. "But if all we get bogged down with in the next weeks, months is impeachment, that would be a terrible disservice to the American people."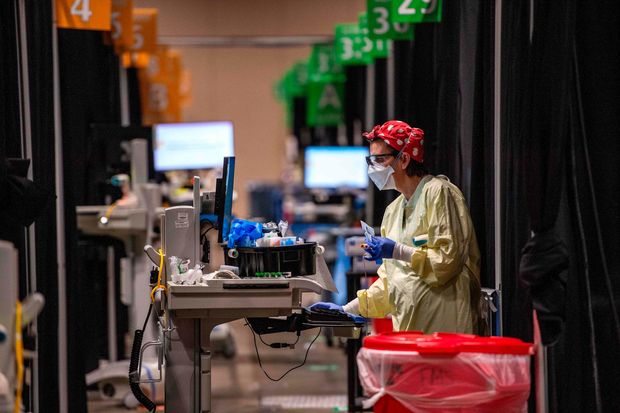 Medical staff at a field hospital for Covid-19 patients
in Worcester, Mass., on Wednesday.
Photo: joseph prezioso/Agence France-Presse/Getty Images
The former vice president will enter the White House at a time when roughly 4,000 Americans are dying each day from the coronavirus. He wants to quickly push through a $1.9 trillion package to help the country conduct an unprecedented vaccination campaign and strengthen the economy.
Meanwhile, the FBI and National Counterterrorism Center circulated a bulletin Wednesday warning that "partisan political grievances" pose the greatest domestic terrorism threat in 2021. Mr. Biden is also taking office less than a year after nationwide protests over race and policing.
Mr. Biden's policy agenda earned a boost after the victories of two Democrats in Georgia's runoff elections, giving the party control of the Senate. Still, with a 50-50 split in the chamber and a narrow Democratic majority in the House, Mr. Biden is expected to need bipartisan support because most legislation will require a 60-vote threshold.
Mr. Biden's plan proposed Thursday would seek to create a national vaccination program to fight the virus, send $1,400 checks to many Americans, reopen schools and provide relief to communities and small businesses. Mr. Biden also will press Congress to enact some longtime Democratic policy priorities, such as a $15 an hour federal minimum wage, up from the current $7.25.
Republicans have already signaled they won't support a large spending deal to address the continuing impact of the pandemic. Some in the GOP are backing Mr. Biden's call to send many Americans another round of checks, but many Republicans have called it a nonstarter.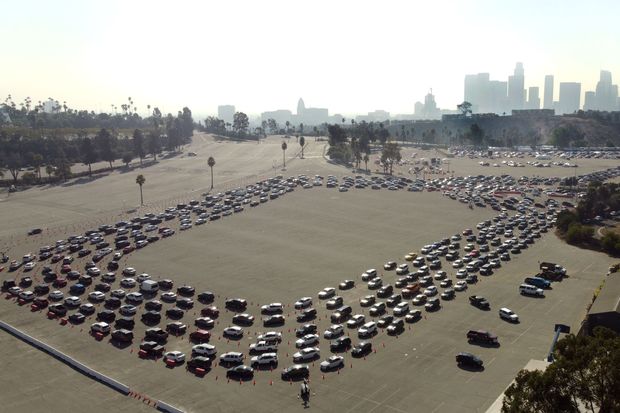 A Covid-19 testing site at Dodger Stadium in Los Angeles in early January.
Photo: Dean Musgrove/Orange County Register/Zuma Press
As a candidate, Mr. Biden outlined a series of broadly liberal policy aims that are likely to face opposition from Republicans in Congress, such as expanding the Affordable Care Act, phasing out carbon emissions, enacting stricter gun laws and making public college tuition-free for families earning less than $125,000.
Mr. Biden has privately spoken with several Republicans in Congress since the November election, including Sen. Mitt Romney of Utah, in the hopes of finding legislative partners from across the aisle.
"If President Biden promotes extreme progressive legislation, it will meet stiff resistance from Republicans," Mr. Romney said. "If instead he looks for common ground, he will find it."
Rep. Jim Clyburn (D., S.C.), a close Biden ally, said, "I don't have any problems with anybody trying to work with Republicans. I would have a problem if you allow Republicans to veto your agenda."
The Senate isn't set to begin its trial of Mr. Trump, who on Wednesday became the first president in U.S. history to be impeached twice, until after Mr. Biden takes office. While nearly all Democrats and a number of Republicans in Congress say it is necessary to hold Mr. Trump accountable, some are cautioning that impeachment could stall Mr. Biden's legislative agenda.
"It makes it hard for the people who represent those constituents to have a different view," said Sen. Joe Manchin (D., W.Va.), describing the challenge for lawmakers who represent states with large numbers of Trump voters, in an interview. "That's the reality."
Mr. Biden hasn't offered public support for impeachment, saying his focus remains on confronting the pandemic. He made clear during a news conference last week that he wanted those involved to be held accountable, and that he considered Mr. Trump's actions impeachable offenses. But he said he would defer to congressional leaders and others on how to proceed during the waning days of Mr. Trump's term.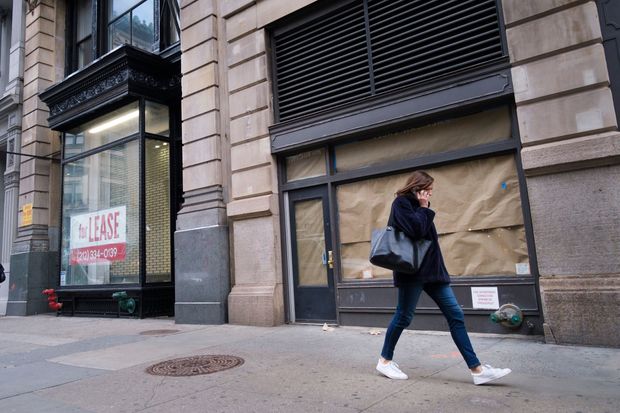 Closed retail stores in New York this month.
Photo: justin lane/TPA/Shutterstock
Behind the scenes, Mr. Biden and top advisers have asked congressional leaders if the Senate could split its work at the start of the administration between impeachment and other priorities, such as confirming Mr. Biden's cabinet nominees and moving another Covid-19 relief package.
Mr. Trump's refusal to concede, delays to the start of Mr. Biden's transition and hearings for Mr. Biden's nominees mean he is unlikely to have any cabinet secretaries confirmed on his first day in office, breaking with recent practice.
Mr. Biden has continued to say he can work with Republicans, citing the relationships he forged over a decadeslong career in the Senate.
"We need a Republican Party," Mr. Biden told reporters in Wilmington, Del., last week. "We need an opposition that is principled and strong."
Mr. Biden framed the riots as a possible turning point in the partisan fissures that have long defined Washington. "I think it makes my job easier," he said, since some Republicans have broken away from Mr. Trump. "We must unify the country."
Some congressional Democrats are demanding consequences for Republican lawmakers, including the House Minority Leader Kevin McCarthy, who voted against certifying the election results after the riot last week.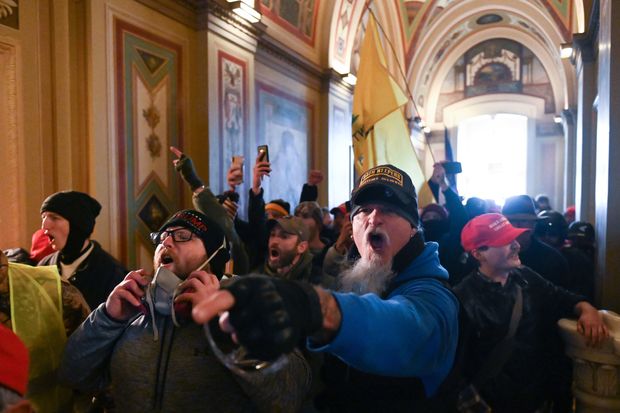 Trump supporters rioted inside the Capitol on Jan. 6.
Photo: ROBERTO SCHMIDT/AFP/Getty Images
Multiple Senate Democrats have called on Sens. Josh Hawley (R., Mo.) and Ted Cruz (R., Texas), who led plans to challenge the electoral results in the Senate, to resign.
Mr. Biden told reporters he thought the pair's behavior had encouraged the riots, but he said the answer was to defeat them in their next campaigns. Neither senator is up for re-election until 2024.
Progressive groups have rallied behind a resolution introduced by freshman Rep. Cori Bush (D., Mo.) that would investigate and issue a report on all House members who objected to Mr. Biden's electoral vote totals. Those members could face sanctions, including removal from office. Ms. Bush contends that opposing the certification of the election amounted to participating in or encouraging the insurrection.
" Joe Biden should be much more forceful about how Donald Trump and congressional Republicans paved the way for the violent insurrection and failed coup," said Waleed Shahid, a spokesman for Justice Democrats, an organization that works to elect progressives. "This is one of the most alarming events in American history, and both impeachment and expulsion of Republicans who stoked this violence should be much more on the agenda."
Mr. Trump's impeachment has broad support among Democrats, who have assured the Biden transition team that they can simultaneously hold a trial without slowing down the confirmation of his team.
"To have real healing you have to have accountability, you have to have accountability and justice," said Sen. Debbie Stabenow (D., Mich.). "This isn't even, in my judgment, a close call on what just happened. And a majority of Republicans in the Senate, however they choose to vote, they know, they know in their hearts that this isn't even a close call."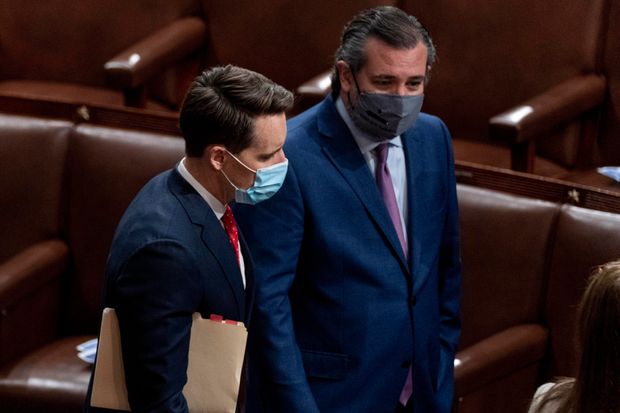 Sen. Josh Hawley (R., Mo.), left, and Sen. Ted Cruz (R., Texas)
objected to certifying Electoral College votes.
Photo: Andrew Harnik/Associated Press
Mr. Manchin, who spoke to Mr. Biden earlier this week, said he would like to see a delay in a Senate trial following Mr. Trump's impeachment by the House.
"I would love to be able to give Joe Biden three to four months, and we don't have to move right into an impeachment trial. The impeachment is viewed as truly a political maneuver," said Mr. Manchin, who said it was unlikely enough Senate Republicans would join with Democrats to convict Mr. Trump.
"If we go through an exercise of futility, it gives the supporters of Donald Trump, those totally hardened supporters of his, more fuel of what they've been saying, and that the truth is only what Donald Trump says," he said.
Sen. Richard Blumenthal (D., Conn.) said he believed a trial could be dealt with quickly, suggesting there was ample evidence tying Mr. Trump directly to the events of Jan. 6.
"It's the president's own words. It's the videos of his statements on the Ellipse, and his tweets leading up to that event, where he was in effect inviting a mob to Washington and then inciting it once it was here," Mr. Blumenthal said. "I think it's a short case, and I don't know what his defense is."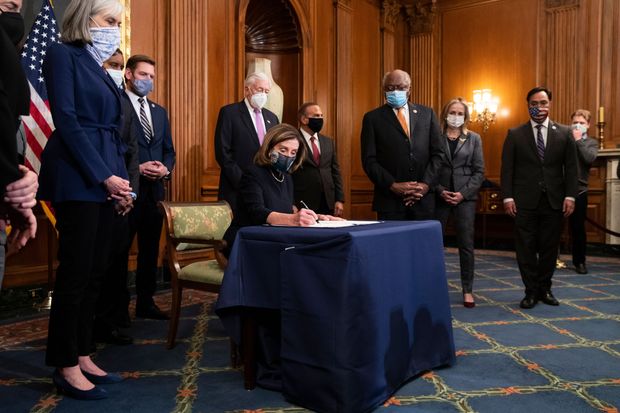 House Speaker Nancy Pelosi signed the article of impeachment
passed by the House on Wednesday.
Photo: michael reynolds/EPA/Shutterstock
Former Senate Majority Leader Harry Reid, a Democrat from Nevada who retired in 2017, has spoken recently with incoming White House chief of staff Ron Klain and Mr. Biden's counselor, Steve Ricchetti. He suggested that Mr. Trump's departure would give Republicans more latitude to work with Mr. Biden.
"I look at the glass being half full," Mr. Reid said, pointing to the Democrats' coming Senate majority. He said Mr. Trump "is no longer the power that he was" because of the push for impeachment and recent pleas for Vice President Mike Pence to invoke the 25th amendment.
"The job of the Democrats is going to be easier because Trump is a weakened vessel," he said.
Presidents in the past century have faced daunting tasks as they entered office, including Franklin Delano Roosevelt, who was inaugurated amid widespread unemployment at the start of the Great Depression; Richard Nixon, who took office following the civil unrest of 1968 and was succeeded by Gerald Ford after resigning amid the Watergate investigation; and Barack Obama, who arrived during the cascading loss of jobs following the near meltdown of the financial markets.
"President Biden is facing not only an economic crisis but also a political crisis, a cultural crisis, a public-health crisis and an epistemological one," said historian Jon Meacham, an informal adviser to Mr. Biden who has helped him draft major speeches. "It's immense. And they're all related."
Dan Pfeiffer, a former senior adviser to Mr. Obama, said the Capitol Hill insurrection "was the most dangerous, violent manifestation of the divisions Biden was already facing. Even before what happened last week, Biden was coming into office with the highest degree of difficulty of any incoming president in modern history. It's only gotten more difficult."
Recent polling has underscored the challenge for Mr. Biden. Nearly 75% of Americans believe U.S. democracy has been threatened, and a slim majority say Mr. Trump should be removed from office, according to a Quinnipiac University poll released this week. But the same survey found that 56% of voters don't believe Mr. Biden can overcome political divisions and unite the country.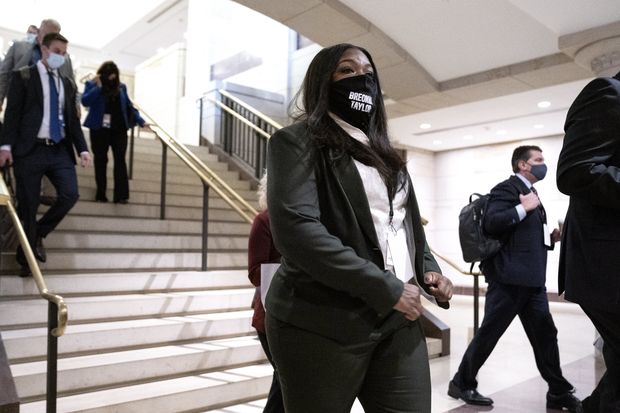 Rep. Cori Bush (D., Mo.) introduced a resolution to investigate
and issue a report on House members who objected to
Mr. Biden's electoral vote totals.
Photo: Stefani Reynolds/Bloomberg News
Mr. Trump, who has been banned from most social-media platforms following the riots, issued a statement Wednesday saying that Americans should engage in "NO violence, NO lawbreaking and NO vandalism of any kind," adding, "That is not what I stand for, and it is not what America stands for."
The president has denied responsibility for the Capitol riot. He has spent the days since the violence stewing at the White House, frustrated with Republicans and allies that he thinks betrayed him, according to people close to the White House. On Tuesday, he called the impeachment efforts a continuation of what he has termed a "Democratic witch hunt."
While a growing number of Republicans have split from Mr. Trump over the past week, many of the president's most ardent supporters in Congress blasted the prospect of impeaching him. Rep. Matt Gaetz (R., Fla.) delivered a missive against Mr. Biden on the House floor on Wednesday, pledging that Republicans in Congress would carry out investigations into the president-elect and his family.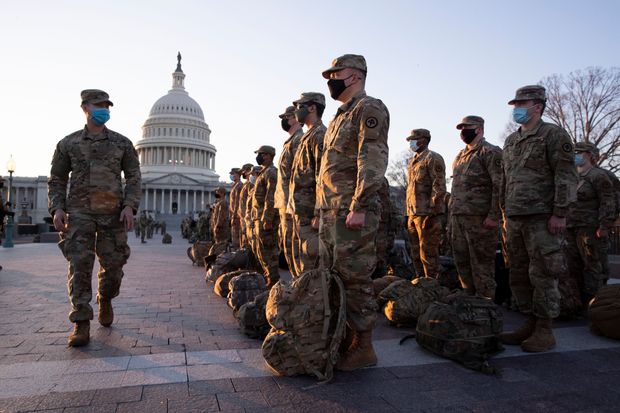 Members of the National Guard gather on the grounds of
the Capitol on Tuesday.
Photo: michael reynolds/EPA/Shutterstock
Some Republicans warned the party's desire to appeal to Mr. Trump's supporters threatened the prospect of unity.
"Acquiescing to dangerous conduct does not promote unity," said Mr. Romney, the only Republican who voted to convict Mr. Trump in his first impeachment trial. "The best thing loyal Trump Republican leaders can do to unify the country is to tell the truth: Joe Biden fairly won the election. Continuing to falsely claim that the election was stolen incites anger and further violence."
Mr. Biden is making plans to project bipartisanship and healing in the weeks ahead. His inaugural committee will hold a day of service on the Dr. Martin Luther King Jr. holiday and is planning a lighting ceremony at the Lincoln Memorial Reflecting Pool to honor the 388,000 Americans who have died from the coronavirus.
Sen. Chris Coons (D., Del.), a longtime friend of Mr. Biden's who succeeded him in the Senate, said he had discussed plans for the new president to address this year's National Prayer Breakfast, which will be held virtually in early February.
Mr. Coons said he expected Mr. Biden to consult extensively with members of Congress from both parties and build upon his personal relationships in the Senate, the degree to which a president hasn't enjoyed since Lyndon B. Johnson.
"There are things he can do, large to small, how he engages with the leadership in Congress," Mr. Coons said. "Spending an afternoon, just Elaine Chao and Mitch McConnell, Jill and Joe Biden. Going to Camp David with a small, vaccinated group of the senior leadership of Congress."
He noted that Mr. Trump and House Speaker Nancy Pelosi didn't speak for months amid last year's negotiations on coronavirus relief.
"To do better than that level of outreach is not hard," Mr. Coons said. "But what we know about Joe Biden is that it has been 60 years since there's been an incoming president with as much experience in the Senate."
—Eliza Collins, Catherine Lucey and Dan Frosch contributed to this article.
Write to Ken Thomas at ken.thomas@wsj.com and Sabrina Siddiqui at Sabrina.Siddiqui@wsj.com