HEUTE 18:30 Uhr: Berlin Chapter verleiht Female Founders Award 2021 (Live Stream)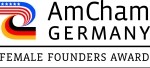 Sehr geehrter Herr Freiherr von Massenbach,
liebe Freundinnen und Freunde von AmCham Germany,
so groß die Unterschiede zwischen den USA und Deutschland in vielen Punkten auch sind – in einem Punkt sind sich beide Länder sehr ähnlich: Der Anteil von Frauen bei Startup-Gründungen liegt jeweils nur bei rund 15 Prozent. Gleichzeitig zeigen diverse Untersuchungen, dass die Gründerinnen im Schnitt weniger Kapital benötigen und deutlich profitabler sind, als ihre männlichen Counterparts.
Wir haben das als Ansporn für unseren Female Founders Award gesehen: Welche "Best Practices" gibt es in den USA und Deutschland? Wie machen wir positive Beispiele bekannt? Und was können wir bei AmCham Germany tun, um "Female Leadership" zu unterstützen?
Heute Abend werden wir zum zweiten Mal den Female Founders Award vergeben und ich möchte Euch und Sie noch einmal herzlich einladen, an unserer virtuellen Gala teilzunehmen. Wir starten morgen um 18.30 Uhr und erwarten tolle Rednerinnen wie AmCham Germanys Executive Vice President Simone Menne, Dr. Marianne Jannik, Chairwomen of the Management Board, Microsoft Germany, und Krista Pilot, Senior Vice President bei PepsiCo Europe. Für die Moderation haben wir erneut Chelsea Spieker gewonnen. Und natürlich tolle Gewinnerinnen mit sehr interessanten Unternehmensgeschichten.
Link zum Live Stream:
Dienstag, 27. April, 18:30 Uhr
aka.ms/amcham_award
Bis heute Abend und herzliche Grüße
Prof. Dr. Torsten Oltmanns
Regional Chapter Chair Berlin-Brandenburg
American Chamber of Commerce in Germany e.V.
E bbiemann@amcham.de | T +49 30 2130056-21
AmCham Germany | Charlottenstraße 42 | 10117 Berlin | W www.amcham.de
Vereinsregister AG Berlin-Charlottenburg, 95 VR 4467 Nz | Geschäftsführer: Daniel Andrich