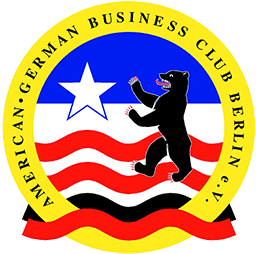 9th May 1995 – 9th May 2020
The American German Business Club Berlin e.V.
celebrates its
25th Anniversary
                        Attached you'll find two milestones of the club's history:
*Copy of our first bylaws signed by the founding members. Names can be seen on the following file "Vereinsregister"
*Copy "Auszug aus dem Vereinsregister"  Dec. 2000 with names of first & second board AGBC-Berlin. (for better view turn to the right)
Two remarks to the bylaws:
The bylaws had to be adjusted to the German Tax Laws regarding "Gemeinnützigkeit"
The bylaws were meant to everlasting presence. You will not find any motion to "Next Generation". Our front man to the group "Next Generation"  is Christopher Vogelsang. See his remarkable profile attached.
Thank you Christopher for your presentation of your start-up "Berliner Stilkuchen Catering".
Aus gegebenem Anlass wird der Empfang zum 25-jährigen Bestehen des AGBC-Berlin in Verbindung mit einer Jahreshauptversammlung am 19. Sept. 2020 im Marriott Hotel Berlin stattfinden. Zu beiden Veranstaltungen wird gesondert eingeladen.
On behalf of
American German Business Club Berlin e.V. (gemeinnützig)
Udo von Massenbach – Burkhard Schneider – Thomas Waterstradt – Christopher Vogelsang – Bärbel Freudenberg-Pilster
American German Business Club Berlin e.V. – P.O. Box 08 0427 – 10004 Berlin, Germany