WSJ: How the Coronavirus Will Reshape World Trade
In the post-pandemic world, more economic activity will be designated vital to national security,accelerating pressures on globalization
By Jacob M. Schlesinger
June 19, 2020 2:56 pm ET
When the global economy finally gets beyond the pandemic, expect it to be less globalized than before.
Governments, including many longtime advocates of global trade, are using the crisis to erect barriers to commerce and bring manufacturing home. Japan now pays companies to relocate factories from China. French President Emmanuel Macron pledges "full independence" in crucial medical supplies by year-end. In Washington, Republicans and Democrats alike back new "Buy American" requirements for government health spending.
From semiconductor makers to surgical-gown producers, companies are reassessing far-flung, multinational production networks that have proven vulnerable to disruption.
"What the pandemic has done is highlight some of the ways that globalization may have gone a bit too far," said Peter Anderson, vice president of supply chain and manufacturing for Indiana-based engine maker Cummins Inc., which has 125 factories in 27 countries. A decade of disease, natural disasters and trade wars has shown how companies have been "putting a huge amount of risk in global supply chains," he said.
Those disruptions, he said, are prompting Cummins to accelerate plans to make its production systems less global and to concentrate manufacturing closer to where the final goods get sold.
In the post-pandemic world, more economic activity will be designated vital to national security, and thus deemed to require self-sufficiency. If governments wall off segments of their economies, costs could rise and growth could slow. Richer economies may grow more slowly while newly industrializing one—winners in recent years—may fall back. The World Bank this month warned of lasting harm to low-income countries from "prolonged damage to global supply chains, global trade and financial flows, and global collaboration."
"Global capitalism will have to be rebalanced," said Pascal Lamy, former director-general of the World Trade Organization and now European chairman of consulting firm Brunswick Group. "That pre-Covid balance between efficiency and resilience will have to tilt to the side of resilience."
Not all the pandemic responses have been inward-looking. A coalition of smaller nations, led by Singapore and New Zealand, is promoting a tariff-cutting pact to expand trade in medical products, saying that international cooperation is the most efficient way to boost scarce health supplies. A videoconferencing boom is accelerating a move toward online work and remote services, such as telemedicine, that could globalize sectors that have long been primarily domestic.
By forcing a sudden expansion of online work, the pandemic has severed more jobs from physical locations. "It's not as simple as saying globalization is over," said Susan Lund, a partner at the McKinsey Global Institute. "Globalization will be reshaped."
Foreign trade is forecast to fall by as much as a third this year, and foreign direct investment by 40%. International investors pulled $83 billion out of emerging markets in March alone, a single-month record, though the investment totals rebounded slightly in April and May.
Nearly 90 governments have blocked the export of medical goods to preserve supplies for their citizens, while 29 did the same with food, according to Global Trade Alert, a Swiss-based monitoring group. More than 70% of the world's ports of entry—air, sea, and land—restricted foreign travel. Some export curbs have been lifted recently.
The world economy grew at a healthy pace in 2019, but trade declined, in part because of Trump administration trade policies aimed at China and other U.S. trading partners. Global foreign direct investment was 25% below its 2015 peak. International migration has trended steadily downward over the past decade, after sharp increases between 1990 and 2010.Even before the coronavirus struck, globalization had been stalling after a boom in the 1990s and 2000s, when the end of the Cold War unified the international economy. The financial crisis ended that expansion, and the election of Donald Trump and Britain's exit from the European Union further hampered economic integration.
The WTO has two post-pandemic forecasts. Its optimistic scenario shows trade bouncing back by next year to roughly the same level it would have reached without the crisis. Its pessimistic one shows a more tepid pickup and a slower growth rate, with cross-border commerce 20% below the levels expected before.
Similarly, a century ago, the Spanish flu and World War I abruptly halted growth in global trade, finance and migration. The war, the 1918 pandemic, nationalism and protectionism severed international links so thoroughly that it took more than half a century for global economic integration to recover to early-20th-century levels.
The Modern History of Globalization
The forces currently undermining global economic integration are similar to those that restricted international commerce a century ago.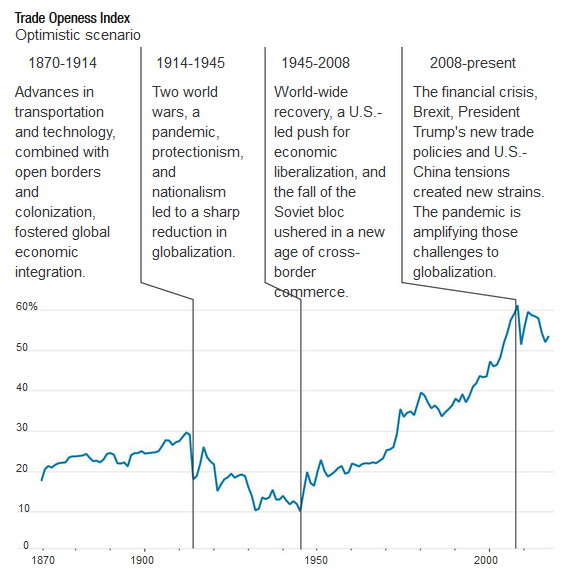 Note: The Trade Openess Index is the sum of world imports and exports divided by world GDP
Sources: Douglas A. Irwin, Peterson Institute for International Economics; Mariko J. Klasing and P. Milionis (1870-1949); Penn World Table (1950-2017)
The pandemic has exposed an apparent Achilles' heel of the global economy—intricate supply chains stitching together factories, distributors and consumers. Cross-border shipments within supply chains came to account for more than half of all international trade by 2007, according to the World Bank.
Medtronic PLC, a Minnesota-based maker of medical devices, says the ventilators it makes contain more than 1,500 parts from 100 suppliers in 14 countries.
The concentration of global auto-parts production in China's Wuhan area—the region where Covid-19 first emerged, and the first place to shut down—prompted assembly-crippling shortages in Japan, South Korea and Serbia.
"For the last 20 years or so, supply chains have really been structured for efficiency," making them "very vulnerable to disruption," said Hamid Moghadam, CEO of Prologis Inc., a logistics firm.
At one point, China blocked Sweden's Mölnlycke Health Care AB from exporting gowns from Chinese factories to its Czech Republic plants for packing in surgical kits sold throughout Europe. Those Czech facilities also were hampered by Poland's decision to close its border with the Czech Republic, cutting off half the company's local workforce.
France barred Mölnlycke from shipping masks stored in its Lyon warehouse to Spain and Italy, while the EU temporarily stopped exports from the company's Belgian distribution center designated for nearby non-EU members Switzerland and Norway. When Mölnlycke was unable to fulfill plans to ship products from that Belgian center to the Middle East, Morocco stopped the export to Europe of the caps and scrub suits the company makes in Morocco.
"I thought Europe was all about a common market and solidarity. Now it's like the Wild West," said Mölnlycke Chief Executive Richard Twomey. "One thing that's 100% certain is that the way we supply things is going to have to change. We're working with various countries in Scandinavia to put in place an element of local manufacturing."
Some U.S. factories that remained open, or sought to reopen quickly, were hampered for a time by closures of their suppliers in Mexico. The CEOs of more than 300 American manufacturers, including auto makers and electronics and chemical firms, signed a petition pleading with Mexico to coordinate with American production plans, warning that shutdowns are "imperiling our ability to deliver critical supplies and daily essentials to citizens…across North America."
Mexican officials responded that they were worried about contagion in border factories. "We're part of a global supply chain, but Mexico's priority today is the health and safety of the sick," said Foreign Minister Marcelo Ebrard at the time.
Blake Moret, chief executive of Rockwell Automation Inc., a Milwaukee-based industrial-automation equipment maker, expects companies to reduce reliance on single factories from a sole supplier for a crucial part or raw material. "We are already seeing some manufacturers' plans to return manufacturing to North America," he said.
Medical Trade
The pandemic prompted governments around the world to limit exports of medical supplies, with 89 nations implementing 160 such restrictions since January. Some of those curbs have since been lifted.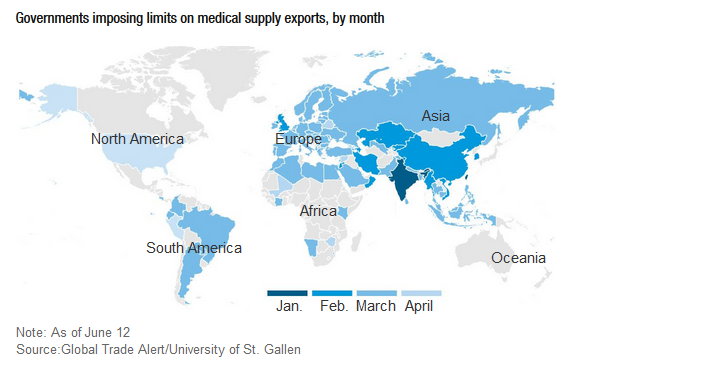 Even before the coronavirus crisis, the U.S. and China were each erecting barriers to protect domestically developed technology and other sectors in the name of national security. The fifth generation of wireless technology is fracturing into American and Chinese-led versions.
President Trump's chief trade negotiator, Robert Lighthizer, told fellow trade ministers from the world's biggest economies that one lesson of the pandemic was that "over-dependence on other countries as a source of cheap medical products and supplies has created a strategic vulnerability."
Secretary of State Mike Pompeo said the crisis should prompt a reassessment of U.S. reliance on China, not just for pharmaceuticals but rare-earth minerals, nuclear materials and "a host of other things that really are central to American security."
In the weeks after the pandemic hit, at least nine separate bills were introduced in Congress aimed at curbing American dependence on foreign medical goods, six with sponsors from both parties. Michigan Democratic Rep. Elissa Slotkin has introduced legislation aimed at treating the health sector more like "a homeland security asset." The Trump administration has said since May it is considering imposing tariffs or quotas in the name of national security on various products, including mobile cranes and materials used to make electrical transformers and aerospace and defense equipment.
Policies to foster self-sufficiency are catching on among some governments that opposed Mr. Trump's earlier attacks on globalization. "The question posed by this crisis is that we may have gone too far in globalization," said Thierry Breton, the EU's internal market commissioner. German Chancellor Angela Merkel has declared that, when it comes to medical supplies, "we need a degree of sovereignty in this area, or at least a pillar of domestic manufacture."
At least eight countries, along with the EU, have this year unveiled new limits on foreign investment, aimed in particular at blocking takeovers of distressed strategic industries.
Governments have been using subsidies to prop up domestic businesses through the shutdowns. Some of the most contentious trade fights of recent years—pitting the U.S. against the EU, and nearly every major country against China—have centered on market-distorting government support for industry.
Trade experts warn of new battles over whether such funding improperly promotes exports or blocks imports, especially when justified in the name of health security. "Dealing with precautionism will be much tougher than dealing with protectionism," said Mr. Lamy, the former WTO chief. The varied ways that countries choose to protect their populations from risks, he said, "will fragment the global trading system in a much more definitive way than tariffs."
When similar strains emerged during the 2008 financial crisis, the WTO stepped in to quell a nascent trade war. The Geneva-based organization no longer has such clout. The Trump administration last year blocked the appointment of judges to the trade court, effectively stripping WTO's legal system of its powers to enforce global rules. Longtime paralysis has stymied the WTO's ability to write new ones to cover new challenges.
Some policy makers in the U.S. and elsewhere argue that the crisis calls for more integration, not less, and that moving toward more independent economies would leave the world more at risk of supply breakdowns. More than 100 governments, including the U.S., have cut tariffs and eased other restrictions on medical imports that had been imposed before the pandemic, an acknowledgment that—in the short run at least—they are better off by importing more, not trying to cut off foreign supplies.
"If more countries pursue the track of self-sufficiency, it will increase competition for scarce resources, drive up prices and deepen international hostilities," said Phil Hogan, the EU trade commissioner. "It would be a lose-lose situation for our citizens and our economies."
Despite the rhetoric about re-shoring, the economic factors driving production abroad will persist, said Mölnlycke's Mr. Twomey. Years of demands for cheaper medical products by cash-strapped public-health systems had driven him to shift production to Cambodia, Myanmar, and Morocco.
Governments now asking him to localize production, he said, "will have to pay a bit more."
https://www.wsj.com/articles/how-the-coronavirus-will-reshape-world-trade-11592592995?mod=djemlogistics_h